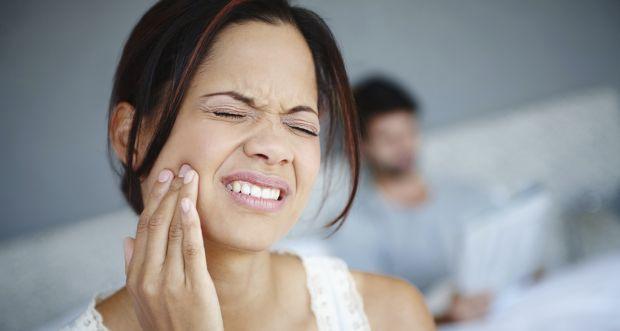 Tooth pain may range from mild to severe; lasting a few minutes to a continuous sharp/dull throbbing pain for hours on end.
Pain may occur on chewing food or could be spontaneous. It may come and go in intervals or last throughout the day or increase at bedtime and can keep you awake throughout the night.
Tooth pain maybe a result of tooth decay, gum infection, teeth wear or trauma (injury or chewing hard food).
A thorough diagnosis is required to ascertain the cause of pain.
You may notice decay on the tooth that hurts. Such decay may extend to the part of the tooth called the pulp that contains nerves and blood supply. Decay causes inflammation in the pulp tissue resulting in pain. This pain may range from moderate to severe in acute cases. This decayed tooth needs to be treated by a root canal treatment.
Tooth pain due to grinding & wear
Tooth attrition may occur due to involuntary grinding of teeth at night, malpositioned teeth or chewing on very hard substances.
These attrited teeth usually become sensitive due to loss of surface layer. However, when the tooth wear extends to the pulp, you may experience pain.
Tooth wear can also occur due to improper brushing habits. This can result in a wedge like cut on the outer surface of the tooth near the gum margins.
Depending on the extent of tooth wear and symptoms, the treatment may vary from a simple tooth filling, dental crown, or root canal treatment.
Tooth pain due to gum infection
Gum infection can cause tooth pain. The gums can get infected due to excessive deposition of plaque and calculus on the tooth surface. These deposits are full of bacteria and along with causing infection of the gums, can also infect the tooth.
The treatment may range from a simple/deep teeth cleaning to more advanced gum surgical procedures in cases where the infection in the gums have progressed significantly.
In case the tooth is also infected, root canal treatment maybe required.
Gum infection may cause dull to moderate pain with the patient usually unable to identify the exact location of the pain. The pain may extend throughout the jaw.
Pain due to cracked teeth
When a tooth is cracked due to trauma, the extent of the crack determines the course of the treatment.
Small breakages in the tooth without any symptoms of pain can be restored with a tooth filling or a veneer.
Cracks extending to the pulp of the teeth causing pain may require root canal treatment with crown.
"Very friendly and competent dentist. The clinic is well-appointed. I have always felt very comfortable putting my teeth under his care. Dentists associates also are equally very caring. Go to Aspen and return with a smile."
"I had taken my mom to Dr.Pramod for root canal treatment 2 years ago and from then been regular visitor for any dental consultation for my family. I would strongly suggest to visit Aspen Dental Care for all your dental problems."
"I've always been a bit wary of any dental procedures. But I'm really glad I chose Aspen Dental Care over the other clinics suggested to me. Dr.Pramod immediately put me at ease when I consulted him for a root canal. Highly recommended for professionalism, skill and proficiency!"
"Dr. Pramod did a root canal for me. He explained me why it is done and how it is done. You can visit him for root canal or any other tooth problem I'm sure you would be happy too."